Flux Financial - Merging Crypto and Securities
Flux Financial is currently working on two projects that each seek to bring the world of traditional securities and Cryptocurrencies closer together.
Bitcoin Bond - Turning a Cryptocurrency asset into a deliverable security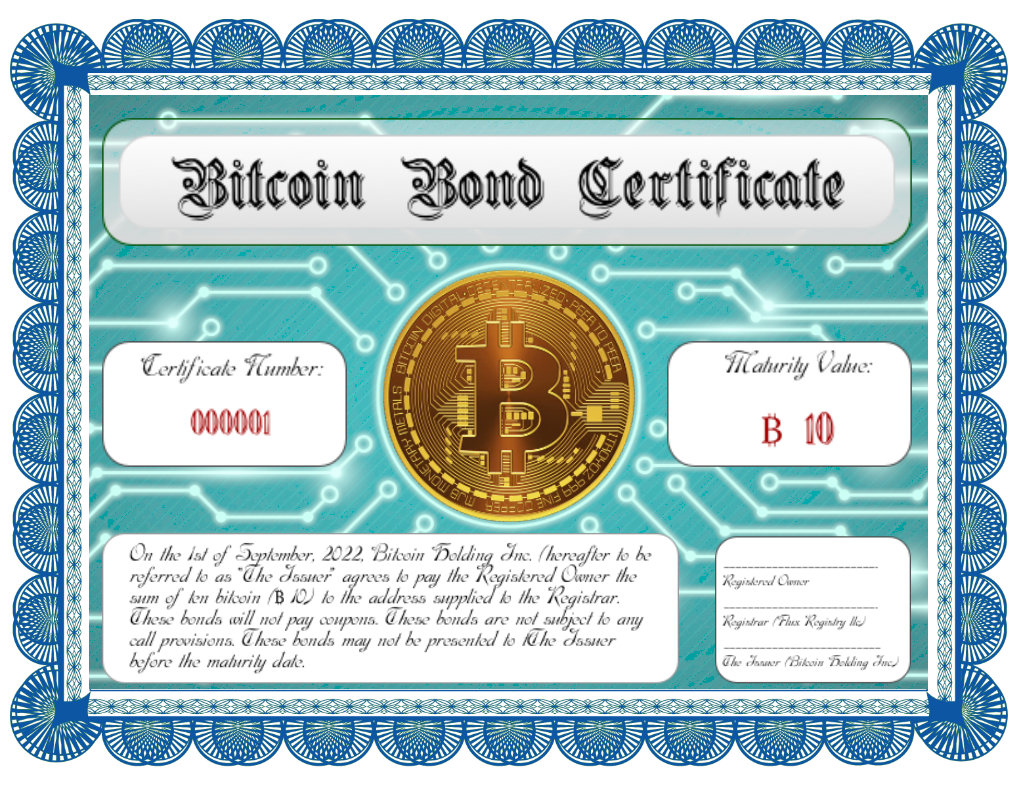 The Bitcoin Bond will be issued to investors who are willing to lend their Bitcoin to Bitcoin Holding Inc. Bitcoin Holding Inc. will issue a bond denominated in Bitcoin with a maturity of around two years. The Bond will be serviced by Flux Registry, an SEC registered Transfer Agent. At the instruction of the bond holder, Flux Registry will deliver the bond through the Depository Trust & Clearing Corporation (DTCC) System to any of it's member brokerage firms for credit to the investor's account.
Flux will file an S-1 with the Securities and Exchange Commission (SEC) so that the Bonds can be held, traded and potentially margined at existing financial institutions using the same trading, settlement and custody mechanisms as other bonds.
We believe this method will yield a Bitcoin linked asset that will introduce a class of institutional investors who are unable to custody Bitcoin in the tradition fashion.
Munidollars - Stable Coin backed by Taxing Authority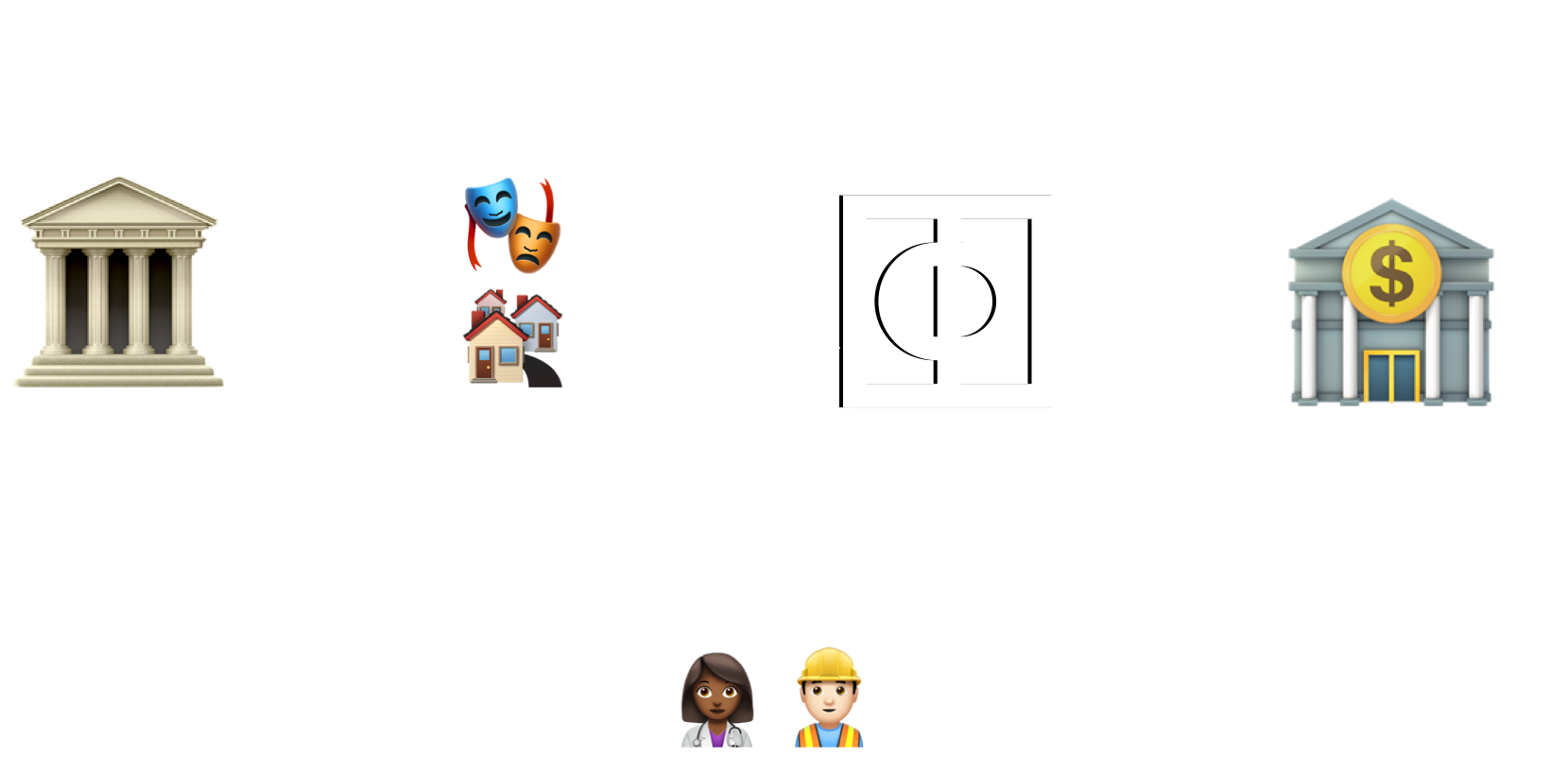 Cities, Counties and States can leverage their existing vendor payment operations to create a new class of Stable Coins which we have dubbed "Munidollars".
The Municipality is allowed, through its bonding authority, to issue short term debt (knows as Tax Anticipation Notes) to finance regular operations.
Flux proposes that the Municipality use that authority to pay vendor invoices in short term obligations, or Munidollars.
For the Municipality, this extends their accounts payable terms to net-365. For the vendor, the Munidollars represent a faster way to get paid, avoiding the cost and hassle of traditional mechanisms like "invoice factoring".
As the Munidollars will be administered by Flux Registry, an SEC registered Transfer Agent, the vendors will have several options for their Munidollars. The most likely course will be to sell them to Flux Securities, a Broker/Dealer to be regulated by FINRA, at a slight discount to their face value.
Initially, that discount will be determined by the approximately one year interest rate prevailing for the Municipality's bonds because Munidollars are convertible, at the holders option, into short term municipal paper. There is an active market for high quality short term municipal paper to stock
As part of the agreement with the Municipality, Munidollars can also be used to satisfy any outstanding payments to the Municipality (taxes, fees, fines) at face value, giving taxpayers and incentive to acquire Munidollars and pay their obligations to the Municipality with a small net discount.
Because Flux Registry is capable of transferring Munidollars from registered form into an Ethereum Stable Coin, we believe there is demand for Munidollars amongst the traditional users of Stable Coins. A Stable Coin, backed by the taxing power of a Municipality, is likely to be more trusted than one backed by current methods.
Flux has proposed using Munidollars to the City of Berkeley in response to the city's RFP.
Financial Technology, Blockchain and Cryptography
As commission rates, underwriting fees and fund management fees collapsed from percentage points to basis points, it became evident that there was very little room for the old school stockbroker, fund manager or deal maker. There are still some trading desks lingering on but every firm is looking to automate the investment process at every level.
The process of this automation is actually very exciting because it involves a complete system analysis, which includes the regulatory considerations. Often this suggests a re-engineering of the processes that have emerged from decades of "market practice."
Once the process is subjected to the logic of if-then statements, a number of old school practices no longer seem relevant. Often that recognition is where the opportunity lies. Unfortunately for many good ideas, fixes and hacks, the legacy players are not keen to have their comfortable niches disrupted.
The addition of the Bitcoin Network, Cryptography, Device Identity Model and other similar innovations gives one a massive toolkit to bring scalable solutions to the market.
Neighborly Corporation & Neighborly Securities
Director, Neighborly Open Book Initiative President, Neighborly Securities Inc. August 2017 to August 2019
Neighborly started with the premise that the humble municipal bond could be optimized to transform how cities, counties, states and even subdivisions within those categories, could finance projects that were impactful and important to the voter/investors.
After a three month consulting contract with Blockchain Clearing Corp, Neighborly decided to bring the team on to execute the "Open Book Project" that we suggested as a way to reach the corporate goals. The Open Book Project sought to change the way municipal bonds were issued by using a dutch auction method for pricing and allocation. The next step was to change the way that Bonds were held by using a Transfer Agent mechanism to reduce costs and increase bondholder visibility to the issuing municipality. Once the Transfer Agent was in place, the next step was an ATS that would specialize in the impact bonds we were planning to underwrite. As a final step tokenization would allow the bonds to be held in directly registered form, at the DTCC, or in a cryptocurrency wallet.
It was deemed advantageous if I could regain some FINRA licenses, particularly to oversee the transformation of the underwriting and eventual ATS application. Not long after, I was promoted to President of Neighborly Securities.
While we were able to successfully issue, hold and trade municipal bonds for customer accounts, establish a clearing relationship with Pershing, stand up an SEC registered Transfer Agent, gain approval to launch an ATS, develop the tools for tokenization and identify a launch partner city, the firm's other projects (fund management and broadband network promotion) drained the company of money. Investors were not willing to fund another round and the company closed before we could issue our first tokenized bond or launch the ATS.
Blockchain Health Company
Co-founder, COO February 2016 to December 2017
At the encouragement of Merck via three Proof of Concept contracts, Blockchain Health developed a system for controlling the creation, management, presentation and storage of the Master Trial File for Stage 3 Clinical Trials using blockchain technologies.
Blockchain Clearing Corporation
Co-founder, COO July 2015 to December 2017
Blockchain Clearing Corp developed and promoted a private blockchain consortium solution for the largest 8 clearing firms in US equities.
The premise was to use rapid messaging, encryption and blockchains to allow firms which represented 80% of the market transactions to clear and settle trades on a TØ basis.
In addition to the improved efficiency of clearing and settlement, the consortium would have allowed the firms to redeploy Basel 2 capital requirements away from the T+3 settlement system, saving in some cases billions of dollars of tied up capital.
Domus Tower Inc.
COO October 2014 to July 2015
Seconded from Fortrend Securities to explore ways to use blockchain technologies to improve traditional security market operations.
Independent Research Partners
Co-founder March 2009 to December 2015
The company used an internally developed algorythm to rank asset classes on a momentum basis. This approach worked well for mutual funds and ETFs. The more uncorrelated the assets in a target screening, the better the results.
Asian Institutional Finance: Equity Sales, Corporate Finance & Fund Management
Fortrend Securities Pty. Ltd.
Corporate Finance March 2011 to March 2015
Worked with listed junior miners and biotech companies on the ASX to raise money through PIPE deals.
Allianz Global Investors Taiwan Ltd.
Chief Investment Officer 2007 to 2009
Ran the 30 person Investment Management department at Allianz Taiwan during the Global Financial Crisis. Through new fund launches, introducing the PIMCO family of bond funds and regular seminars to warn investors of the upcoming financial turbulence, the team managed to limit losses and increase funds under management to US$5bn from $3.5bn when I started.
ABN AMRO Securities Ltd.
Director, Head of Taiwan Equities 2002 to 2007
Started on the New York desk and was transferred to Taiwan to take over the product. Rebuilt the Taiwan product which had collapsed to one junior analyst. As a result of the rebuild and transferring the lessons through the Asian Management Committee, the Taiwan Office led the shift from $25m/year loss to $50m/year profits for the Asian Business with Taiwan as the most profitable office.
SG Cowen Inc.
Director, Asian Equity Sales 2000 to 2002
Joined the New York desk to sell Asian Securities to the US institutional client base and help rebuild the Taiwan Equity Product in particular while building upon an already strong China product.
BNP Paribas Peregrine
Director, Asian Equity Sales 1998 to 2000
Joined the New York desk to rebuild the Peregrine Securities franchise. Successfully placed most of the "red-chips" brought to market from China/Hong Kong during the two year period.
Jardine Fleming Securities Ltd.
Director 1987 to 1998
In my 11 years at Jardine Fleming, I worked in the Hong Kong office three times, helped build the Taiwan office and established the Mainland China footprint for the company from Shanghai.
Retail US Securities
PaineWebber Inc.
Investment Executive 1985 to 1986
Developed a retail customer base in Listed Equities, Options, Municipal Bonds and Tax Shelters using cold calling methods in both English and Chinese.
Crossman-Thaddeus Corp.
Registered Representative 1979 to 1984
Worked summers and holidays as a trader and salesman for the family broker/dealer dealing primarily in Municipal Bonds and OTC listed equities.
Education
Middlebury College
BA, East Asian Studies 1981 to 1985
Chinese Language, Honors Thesis, Junior Year Abroad in Taiwan and China. Member of the Rugby Team.
Groton School
1977 to 1981
General Education. Rowed at Henley in my Sixth Form Season.
Saint David's School
1970 to 1977
Licences
FINRA Registrations
Tolled: Series 24, Registered Principal, Series 53, Registered Muncipal Principal.
Australian Registration
RG 146, Financial Planning Certification
Languages/Skills
Mandarin Chinese
Speak, read and write traditional and simplified characters.
Computer Programs
Basic coding skills in HTML, CSS, JavaScript, mySQL, and PHP.
Proficient in Office programs, basic databases and SQL, Bloomberg, Sketch, Omnigraffle, Asana, basic cryptography.